Spring just has to be the most exciting time of year for us gardeners.
The equinox has passed and the sun is climbing in the sky offering us longer days, more sun to help our plants grow and milder days to work in the garden.
Oh, I know many of you are still in the grip of Old Man Winter, but, Spring will come soon enough. Have you started your seeds yet? Planned this year's garden? Started cleaning out the beds?
Here in the South, our gardens are transforming, with the end of our winter crops of leafy greens, root vegetables and green peas clearing space for warm weather crops such as beans, cucumbers, squash, melons, tomatoes, peppers, eggplant and the like.
I've been harvesting Snap Peas for weeks.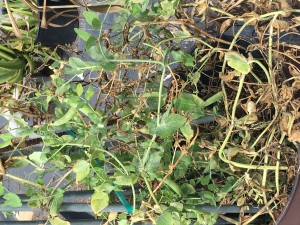 The vines are looking a little peaked now and I think it's time to cut the pea vines and plant something else in that tub. Since I grew peas, which added lots of nitrogen to the soil, I'll grow a heavy feeder such as a Tomato, Pepper or Eggplant in that tub.
New herbs are being stocked here at The Herb Cottage just in time for Spring shows and markets.
People are making their way out to the farm to get the best selection of herbs and vegetables, too.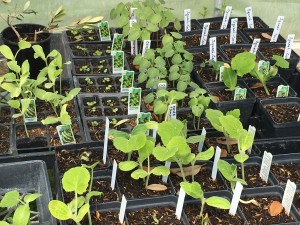 In the herb beds, new growth is everywhere!
Of course, since I let our State Flower, the Texas Bluebonnet, grow wherever it pleases, the beds are full of them now. I'll have to wait another few weeks until they fade and throw their seed out before I can replant my favorite warm weather annual, basil.
In the greenhouse, I have seeded traditional Genovese Basil, but also lemon, lime, Holy and Thai varieties.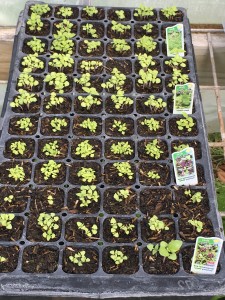 Each type has a different aroma and flavor. Watch for it at my markets starting in mid to late April.
This year I also have African Blue Basil, which I ordered in for a local bee keeper. He said his bees love it the best. So… if you want to attract bees to your gardens and yard, plant some African Blue Basil for them. Most people find the flavor of the African Blue variety too strong for cooking, but it makes a fabulous landscape plant for the bees and for cut flowers. It'll bloom until frost! If you live in a frost free area, African Blue Basil is perennial! Start more plants from cuttings, as the seed is sterile.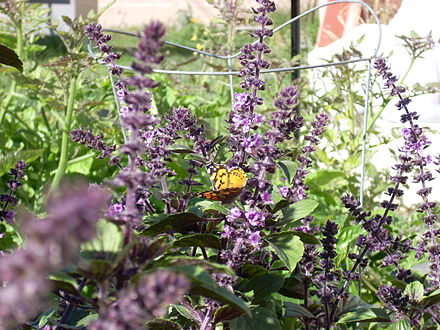 African Blue Basil isn't just for bees. It's a great butterfly plant as well.
In fact, most plants that bees like are also favored by butterflies.