Monthly Feature JUNE 2014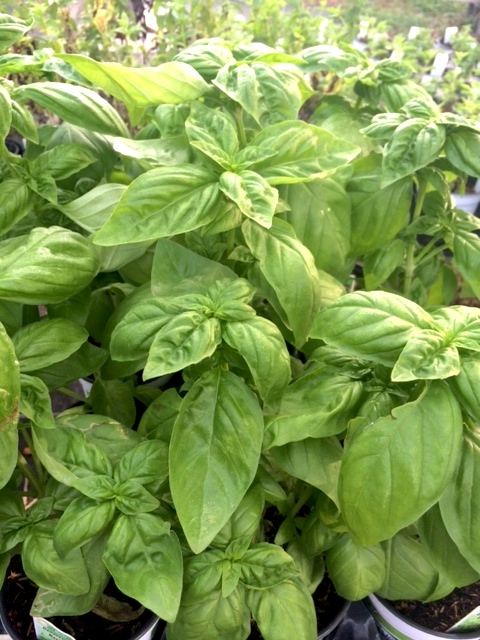 Pesto made with fresh basil leaves is an easy and quick way to preserve the summery goodness of basil. Frozen, it keeps for months and has so many uses. In our household, fast food is cooking some pasta and tossing it with thawed basil pesto, leftover veggies- especially roasted or grilled- and adding a green salad. Voila! Supper!
If you like using pesto to mix with pasta, to top bruchetta, add to vinaigrette salad dressings or to flavor grilled or roasted vegetables, expand your choices by making pesto with other herbs, nuts, seeds and even leafy greens. Try different combinations such as basil with parsley, parsley with spinach, cilantro with parsley, lemon basil alone or mixed with standard basil or parsley… get the idea?
You can add different oils, nuts, seeds and cheese to alter the flavor to your liking.
You don't absolutely need an electric food processor or blender to make pesto, but it really speeds up the process. Any of the following recipes can be made with a morter and pestle. And, a food processor with its wider, shallower bowl works more easily than a blender. Either will do, though. With a blender, you just have to stop and push the food back onto the blades more often than with a food processor. Just be sure the blades have stopped turning before you stick a scraper or spoon into the jar.
Don't do what I did one time…. and stick a wooden spoon in the jar before the blades stopped turning. The spoon was jerked from my hand, bounced out of the jar, sprayed oil and basil everywhere and broke the spoon inside the jar. I threw the whole mess away and had to start over so I didn't have splinters in the pesto. Plus I had to wipe up oily basil from the counter, floor and other surrounding surfaces. I reiterate…. wait until the blades have stopped turning before sticking the spoon in!!! 
Any of the tradtional dairy cheeses in the following recipes can be replaced with vegan varieties, just so long as the cheese is hard enough to be grated. Seeds such as sunflower or pumpkin can be substituted for the nuts. Roasting the seeds or nuts before use will bring out their flavor.
To roast raw seeds or nuts, spread them on a cookie sheet and place in a 350 deg. oven for 10 minutes, stirring and checking frequently to avoid over toasting. Or, place the seeds or nuts in a dry fying pan, I use cast iron, on a hot burner and stir around until you can smell aroma from the oils released from the the seeds or nuts. Do not over brown. Roasted nuts and seeds can be stored in an air-tight container or frozen.
You can make fresh pesto every time you need it, but it's very easy to make a bigger batch when the basil or other herbs and greens are at their peak.
Pesto freezes wonderfully. I like to freeze it in ice cube trays overnight then transfer the cubes to a big plastic freezer bag. One cube is one serving of pesto to mix with pasta.
Be sure to mark the bag with the type of pesto inside. Parsley, basil, cilantro, spinach and arugula can all look alike after they're frozen!
Some people leave the cheese out when freezing pesto and mix it in after the pesto is thawed. I've never done that. My pesto is ready to go when it's thawed. It tastes great and the texture and color is perfect!Following are some recipes to get you started, along with info and ideas for uses of pesto, storing and freezing. Continue reading "Beyond Basil Pesto"