HERE YOU CAN SHOP FOR SEEDS OF MANY TYPES OF PLANTS, SPROUTS AND MORE-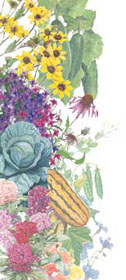 BOTANICAL INTEREST SEEDS
Here at The Herb Cottage, we are proud to carry seeds from Botanical Interests. Following is what Botanical Interests says about their seeds.
"At Botanical Interests our goal is to have a unique product. Our seed packets contain only superior quality seed (our standards are more strict than national standards). The germination rate of every variety is tested before we package it. And, every packet comes with our unconditional guarantee."
Our packaging merges art, gardening and science- inspiring your customers and giving them the tools to become better gardeners.
NO GMO!! YOU WILL NEVER FIND ANY GMO SEED HERE AT THE HERB COTTAGE!!
That said, there currently are not any GMO seed for home gardens– it is all "commodity" crops such as soy, corn, canola and sugar beets that are grown on huge factory farms, using tons of chemical fertilizers, herbacides and pesticides and water that grow the GMO crops. That DOES NOT mean, however, that those heavy-handed seed companies will not try and introduce GMO seed into the home garden or market garden arena. Rest assured, I will NEVER sell GMO seed. NEVER!!
There are also very few types of even common hybrid seed in my offerings. I think you should be able to save your own seed or have the plant reseed itself and come true from that seed. Hybrids do not accomplish that. They need to be replanted every year with newly produced seed. Hybrids are NOT, however, unhealthy or harmful in any way. The breeder- not a chemist– crosses two like types of vegetabels: 2 tomatoes, 2 cucumbers, 2 green beans. The idea is to try and get the best of both varieties in one seed. This has been going on for hundreds of years…. and Mother Nature creates hybrids, too, with the help of wind and insects.
Peruse the selections and order securely through PayPal with your credit card or PayPal balance.
You do not need to have a PayPal account to order with a credit card.
You can email me your order, if you like, and I'll call you back for payment info. Be sure to include you phone number. (Sending Credit Card info through email is not recommended.)
Or, you can download the order form and send it in the mail along with a check or money order.
Send orders to The Herb Cottage, 442 CR 233, Hallettsville, TX, 77964. Fax & Phone: 979-562-2153.
There is a $3.00 handling and postage charge for any seed order. So, get together with your friends and put in a BIG order to take advantage of the flat rate shipping and handling charge.
For information on Gardening Zones, Planting Dates and more on growing, please visit the "Gardening Information" Section of the website.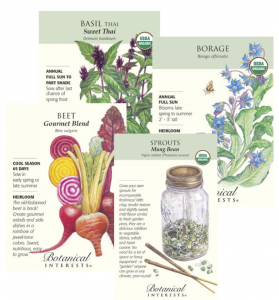 SaveSaveSaveSave
SaveSaveSaveSave
SaveSave
SaveSave
SaveSave
SaveSave
SaveSave
SaveSave
SaveSave
SaveSave