Featured Post for November 2015
As many of you know, if you've been following The Herb Cottage for a while, I like books!
I especially like books on plants and gardening. And, it will come as no surprise to you, that I especially like books on herbs. I keep finding myself adding to my book collection, even though the volumes I have would likely comprise the foundation of a good herb library. Each person who sets out to write a book on herbs brings something different to the project than anyone else. At least, that's my excuse for having so many good books on herbs!
As I have done in past years, I've decided to review some herb books that you might find interesting for gifts or for yourself. Some of these are new titles, some are new to me, but published earlier, and some are my favorites for the study of herbs. So, settle back and enjoy the journey through some books on herbs. A cup of herb tea would be just the thing to accompany you.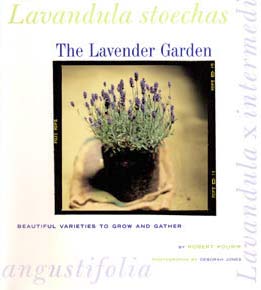 The Lavender Garden
by Robert Kourik,
Photographs by Deborah Jones,                    Published 1998
This book has been reviewed many times since its pubication. It is a lovely and useful book on growing lavender, one of the most popular herbs, if my sales are any indication. It covers the main species and many of the cultivars available. The information on growing deals with soil, light, climate and what types do best in what growing conditions. There is a section that will introduce you to the many varieties of lavender- all lavenders are not created equal, you might say- and the pictures are beautiful and helpful. Harvesting and pruning of the plants is also included.
If you are not interested in growing lavender, only in using it for crafts or cooking, you will still find this book helpful. There is considerable information on using lavender in crafts, toiletries and cooking. Mr. Kourik even talks about using the leaves of the lavender plant for flavor, not just the flowers or buds.
You can't go wrong with this book for a lavender lover! It captures the essence of lavender and is a useful book to have on the shelf. The photographs are divine!
---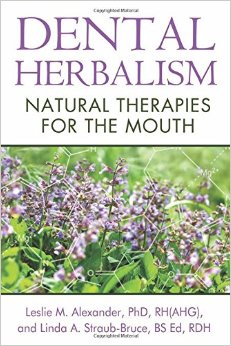 Dental Herbalism, Natural Therapies for the Mouth
by Leslie M. Alexander, PhD, RH(AHG) and Linda A. Straub-Bruce, BS Ed, RDH                                        Published 2014
I saw this book at our local library and thought I would scan it, reading bits here and there to see what it's all about. Much to my surprise, I'm quite fascinated by it. Dental Herbalism has an introductory section on the physical characteristics of the mouth including teeth, gums, bone, etc. Then, the book opens up into why our oral health is so important. How the mouth is key to our total good health.
As the book continues, various strategies concerning the health of the mouth, teeth, etc. are discussed with the focus being on using herbs to maintain good oral health. There's a mini herbal encyclopedia with herbs listed that are beneficial to the care of the mouth. Alternative methods for oral care are discussed, giving the reader choices other than the commercial products available.
All in all, this is a valuable approach to wholistic health with the care of the mouth as the focus. A good reference for anyone interested in a healthier body aided by the use of herbs. Even with so much technical information, the book is easy to read and comprehend. It's written in a very friendly style.
---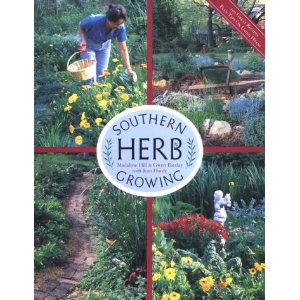 Southern Herb Growing
by Madalene Hill and Gwen Barclay    Published 1997
If you live and want to grow herbs in South Texas or elsewhere along the Gulf Coast, this book is a must-have. Written in 1997 and updated a couple of times since then, it was the first book that really addressed growing herbs in Texas, which many people said "couldn't be done". The book is a wealth of growing information in the Southern climate, when to plant which herb, which ones are easy and which ones are more difficult to get to thrive. It's useful for anyone along the Gulf Coast from Texas to Florida.
There is a Recipe Section with absolutely mouth-watering photographs accompanying each recipe, a section on planning your herb garden, preserving and crafting which makes the book really complete.
Even with all the books in my library, this is still my go-to book for growing herbs here in Texas.
---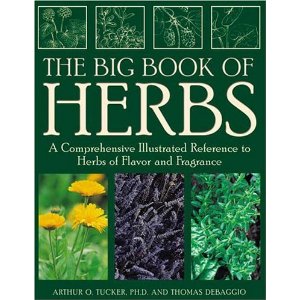 The Big Book of Herbs
by Arthur O. Clark and Thomas DeBaggio Published 2000
More scholarly than some of the other books on this list, this one goes into great detail about all the various cultivars available for each herb, how to grow the varieties, historical uses as well as the chemistry of each plant. Even though the book is very detailed, it is easy to read and understand. Here's what Jim Long, publisher of many books on herbs says: "Tom DeBaggio and Dr. Art Tucker give us new insight into herbs we thought we knew well. Everything from propagation to the chemistry of herbs is found here, along with precise pronunciation and the origins of each plant. These two highly esteemed experts have brought together expansive and enlightening information from their many years of experience."
If you're serious about herbs, whether growing or using them in products, this book is invaluable. 
---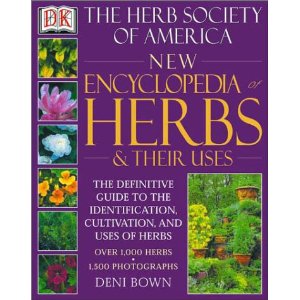 The Herb Society of America New Encyclopedia of Herbs & Their Uses
by Deni Bown                                         Published 2001
This is an extensive and very complete collection of herbal information. The Herb Catalog section contains a description of the plants, country of origin and, in some cases, a bit of the usage. In the next section, The Herb Dictionary, you'll find what the herb is used for, how to grow it, harvest it and a history of usage. Good photos compliment the listings.
If you have room for only one book on herbs and their uses, this would definitely be one to consider.
---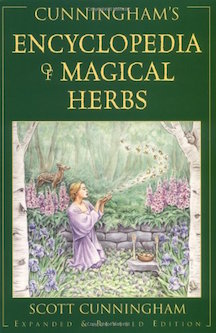 Cunningham's Encyclopedia of Magical Herbs
by Scott Cunningham                                                             Published 1985 (numerous updates)
I added this book to my collection in 2014. Even though I'm not given to casting spells or magical chanting, I do think there is more to this world than we can see. (Fairies, Elves, ESP, Dreams …?)
Scott Cunningham has nicely categorized many herbs into encyclopedic form listing the botanical name, associations for each herb (gender, planet, element and powers) and provided a black and white line drawing for most every listing.
Here's a sample:
"Dill, Anethum graveolens
Folk Names: Aneton, Dill Weed, Dilly, Garden Dill, Chebbit, Sowa, Keper, Hulwa, Buzzalchippet
Gender: Masculine
Planet: Mercury
Element: Fire
Powers: Protection, money, Lust, Love
Magical Uses: The herb is protective when hung at the door and carried in protective sachets. Placed in the cradle it protects children. And if it is placed over the door, no one ill-disposed or envious of you can enter your house.
Dill, owing to the number of seeds the plant produces, is used in money spells. (As is fennel.)
Added to the bath, it makes the bather irresistible, and dill stimulates lust if eaten or smelled (which is why dill pickles are so popular).
Smell dill to cure hiccoughs."
It's an interesting and useful book, even if you never want to cast a spell!
---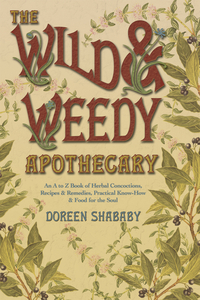 The Wild and Weedy Apothecary by Doreen Shababy, Published in 2010
I wrote about this book in the November 2012 edition of the newsletter. I love the tone of this book… and the title! And, now in 2015, I find myself using this book more and more!
It's incredibly useful, easy to read and the information is clearly presented. The book contains "recipes" for healing uses of herbs, simple teas, food recipes using herbs and a lot about harvesting and using herbs found in your own area. Then, there is an encyclopedic listing of herbs with remedies and recipes for each listing. For instance, under A, you will find the following– Alliums, Anise, Apple, Aromatherapy and Aunt Carols's Manicotti– each with a recipe or useful commentary.
The Wild and Weedy Apothecary is a book to own and browse through. Use it to make tried and true homemade recipes for simple, everyday ailments with easy to find ingredients.
---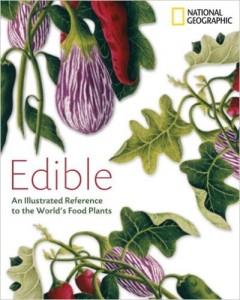 Edible, An Illustrated Reference to the World's Food Plants
by National Geographic                                           Published 2008
This book isn't about herbs, but it's a fascinating look into the geography of the food we eat.
Given the intense interest today in local foods and eating a more plant based and basic diet, this reference gives us a look at food worldwide. If you're looking to add some more unusual foods to your diet, this book can help- with food history, how the food is prepared locally and lots more interesting information.
---
There are almost innumerable books on herbs, each one offering something a little bit different. Whether your herbal passion is to cook with herbs, use them in the garden as pollinators and companion plants, for skin care or other medicinal uses, for use in rituals or in crafts there are books for you.
In addition to books, there is a wealth of information on the Internet, of course. But, something I like about books is how immediate the format is. You can flip from section to section, have several books open on your table at once, make notes in the margins, press herb sprigs or flowers among the pages -try doing that with your laptop! Books are warm, they don't intrude and can be kept forever.
Oh, if your books are being nibbled on by silverfish, press wormwood, Artemesia officinalis, among the pages or scatter it around your bookshelves to deter them.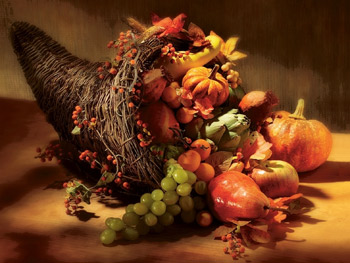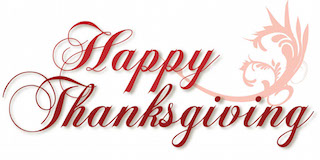 And… who could resist…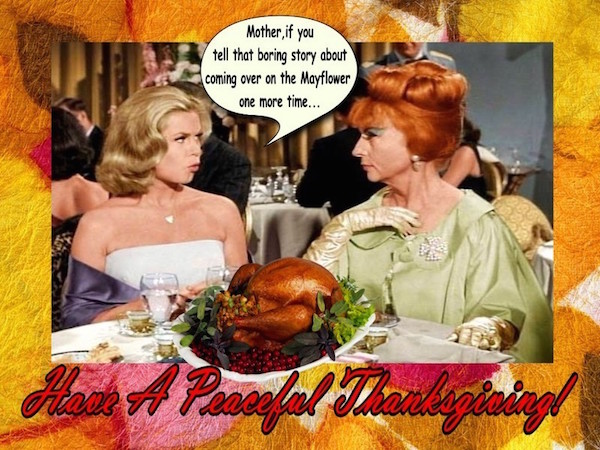 QUOTE FOR THE MONTH
The best theology is probably no theology; just love one another.
-Charles Schulz, cartoonist (26 Nov 1922-2000)