While we wait for Spring to really arrive, I'm enjoying these very hardy early Spring or late Winter herbs.
In the Herb Garden the flowers I love to see in early Spring are the blue of Borage, Borago officinalis
and Chamomile, Matricaria recutita, with its tiny yellow and white daisy-like blooms.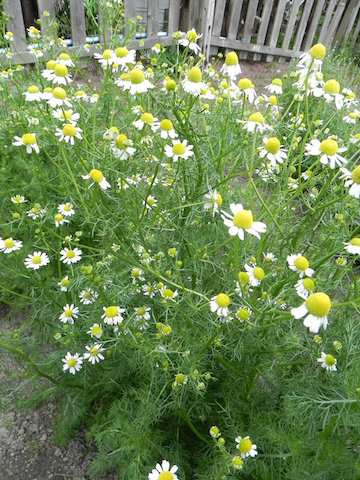 Neither Borage nor Chamomile seem to be grown much around here. I don't know why. Both reseed nicely without being invasive and are useful herbs, too.
Maybe because they're not in the top five culinary herbs, they're often forgotten.
Both herbs do well in average garden soil or in large containers. Both will reseed and can be easily grown from seed or from transplants. 
I like to let Chamomile come up where it wants around the garden. It's so cheery and sweet smelling, never invasive or unwanted in my beds. 
Borage, with its rich blue flowers and large, coarse leaves is a stunning garden addition. It fills space early in the season before the weather gets too hot. Blue flowers are unusual enough that to me, Borage is very special.