Monthly Feature MAY 2014
With the warm weather on the way and herb gardens beginning to produce lots of those flavorful fresh herbs, it's time to get creative using more of your herbs. Why not create refreshing summer sodas or cocktails with your herbs? It's as simple as combining some sugar and water, heating the mix until the sugar melts then adding herbs to steep. That's it!
Here are more detailed instructions:
Simple Syrup:
Equal parts sugar and water
Combine sugar and water, heat and stir to dissolve.
When sugar has all dissolved, remove pan from heat, cool and store in fridge until needed.
Herbal Simple Syrup
After syrup is made, add coarsely chopped or torn herbs and steep until the syrup is cool.
For a stronger infusion, add more herbs or steep longer.
Strain, label and store in fridge.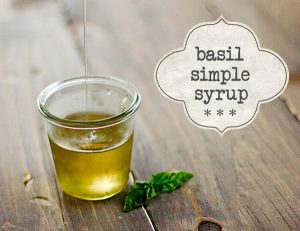 Picture courtesy of Oh My Veggies Blog– great ideas for using simple syrups
Summer Herbal Soda:
Add about 1 tablespoon Herbal Simple Syrup (or to taste) to an 8 ounce glass
Fill glass with ice and sparkling water, tea or juice. Garnish with herb or a piece of fruit.
The possibilities are endless. Any herb you like the flavor of can be used.  Continue reading "Summer Drinks with Herbs"