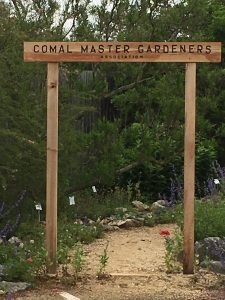 Earlier this Spring, I was privileged to present a program for the Comal (TX) Master Gardener Association. Their facility is on the west side of New Braunfels, TX. I arrived early for my talk since I wasn't sure exactly how long it would take me to get there. I'm very glad I did!
The facility has been planted with various gardens, all flourishing under the care of many dedicated volunteers.
The following is an annotated photo tour of the gardens.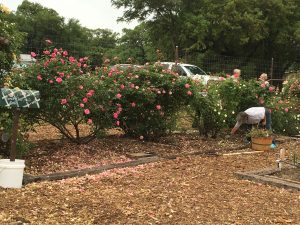 The rose bed was past it's first big flush of blooms, but still was full of blossoms.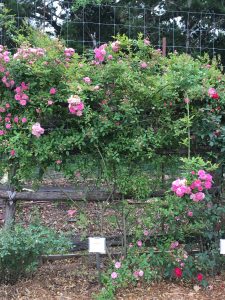 The bed borders the vegetable area.
Neat rows of mature vegetables with drip irrigation installed.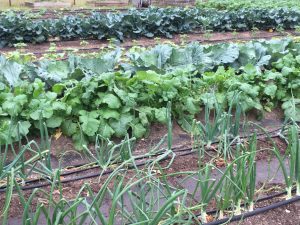 Onions, Swiss Chard, Cabbage, Broccoli, a huge patch of Potatoes! And more!
I was so impressed with the condition of this vegetable patch. Volunteers must put in many hours of hard work!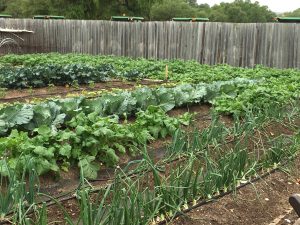 And, here is one of my favorite features of the garden –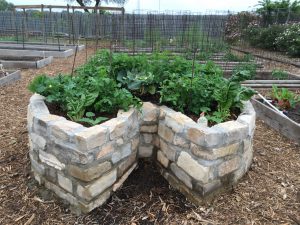 A Keyhole Garden done in limestone and actually mortared together. Very nice!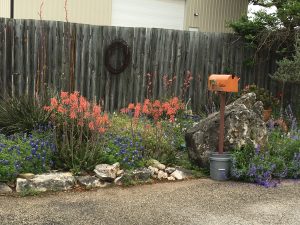 Across the parking lot, near the building is this bed full of succulents and other native or adapted plants for the Hill Country. The day I was there, Ruby Throated Hummingbirds were visiting the Aloe blossoms.
Then, I discovered the beds in the back of the building!
Herbs! Lots of herbs!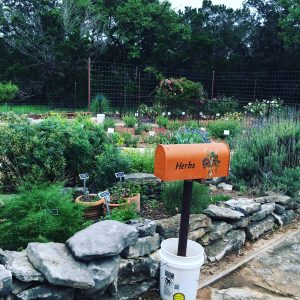 Native plants, including various types of Bluebonnets were planted with Salvia greggii, a fabulous blooming plant for dry and sunny areas. Notice the limestone edging bordering the beds.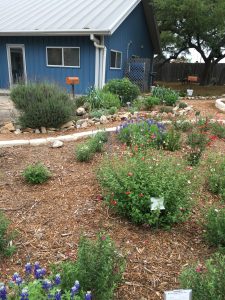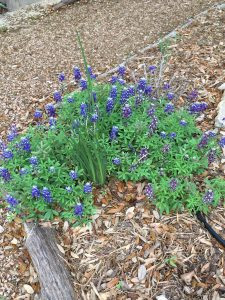 Did you notice the little touches such as the brightly painted mailboxes used to store tools? Stacked rock wall bordering the Herb Bed?
Most of the plants in the beds are clearly marked, which I particularly like. The facility harvests rainwater for the gardens and everything is well mulched. I'll say it again- I am very impressed with this facility and the gardens surrounding it. Good job, everyone!
If you live in or around Comal County and have never been to this facility, I highly recommend a visit. It's at 325 Resource DrNew Braunfels, TX
Here's a link to the Comal County Master Gardener Facebook Page
Until Next Time,
Good Gardening to you,
Cindy
QUOTE FOR THE MONTH
We all should know that diversity makes for a rich tapestry, and we must understand that all the threads of the tapestry are equal in value no matter what their color. -Maya Angelou, poet (b. 4 Apr 1928)