Monthly Feature, JUNE 2015
May's Monthly Feature Article was on the environmental, landscape and household uses of Vetiver Grass. 
This month I thought I'd cover the health benefits of Vetiver Grass.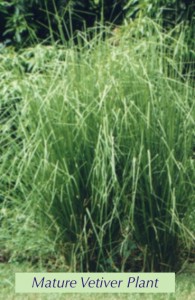 Vetiver Grass essential oil (EO) has been used for centuries by various societies for its pain releiving properties, it's calming aroma and its cooling aspect, among other benefits. In the Ayurveda healing system of India, Vetiver EO plays a prominent role in the practice. The oil is said to be uplifting, calming, soothing and healing.
The fragrance is deep, woody and earthy. It is added to many cosmetic preparations, especially ones designed specifically for men. In the Middle Ages it was used in combination with lime and rosewood. Today, Vetiver EO can be found in many, many perfumed or scented products in our Western world.
Below are some of the specific modern uses and benefits of Vetiver EO.