The Winter Solstice is the shortest day of the year because the earth's axis is tilted farthest from the sun and, therefore, is also the longest night. Our ancestors took this very seriously, as darkness presented more danger as well as cold due to lack of sunlight.

Stonehenge marks the Winter and Summer Solstice
Many cultures and religions celebrate the longest night of the year with rituals involving fire, light, noise, singing- anything to lessen the impact of the darkness and to encourage daylight to return with the continuation of the cycle of the earth.
BRIGHTON, ENGLAND – DECEMBER 21: People carry lanterns at the Burning The Clocks Festival on December 21, 2011 in Brighton, England. The annual celebration is enjoyed by thousands of people who carry paper lanterns through the streets of Brighton culminating on Brighton Beach where the lanterns are burnt and the Winter Solstice is marked.
As gardeners, the short days of Winter cause us to look forward to the Spring planting season. One way we while away the short days until Spring is to peruse new seed and plant catalogs coming in the mail. As the days slowly lengthen, all seems possible in the upcoming growing season
When I buy seeds, I usually order on-line, but I use the print catalog first to carefully look at my choices for the upcoming season. Somehow, I think the paper catalog allows for more contemplation and comparison, than on-line listings.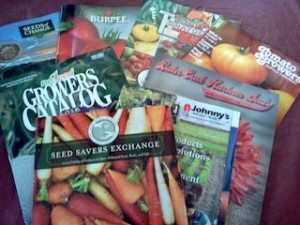 The problem with those colorful photographs and glowing descriptions is, of course, that we order much more than we can fit in our garden space or than we have time to tend.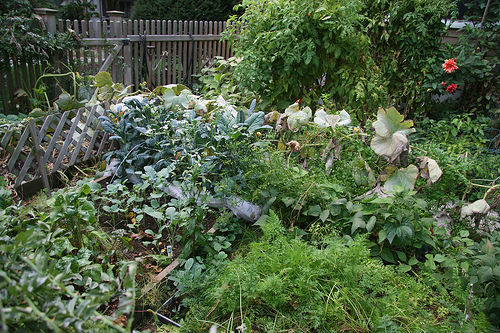 Overgrown Garden
But… what's a gardener to do? This is the perfect time of year to sit in a cozy house with a hot beverage and a stack of seed catalogs to thumb through and dream with. Each catalog has exciting new varieties to offer. Each variety of tomato sounds tastier than the last. Each piquant pepper will add just the right note to your salsa. Each new flower color will add just the right touch to your garden.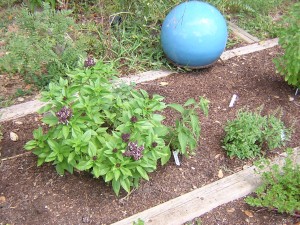 African Blue Basil 
There is a danger in all those pretty pictures and descriptions, each plant seeming like the perfect choice for your garden. Not all plants do well in all parts of the country, in all soil types and in all situations. So, before you get completely carried away, there are a few things you should take into account when looking at seed and plant catalogs.