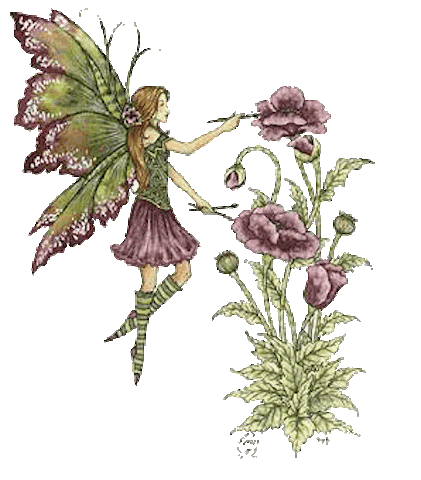 When the winds of March are wakening the crocuses and crickets,
Did you ever find a fairy near some budding little thickets,…
And when she sees you creeping up to get a closer peek
She tumbles through the daffodils, a playing hide and seek.
— Marjorie Barrows
Fairy gardens are magical spaces inhabited by plants, miniature structures, and imagination.  
Did you know fairy gardens first debuted in the US in 1893? They began as bonsai dish gardens and their popularity was likely due to the Japanese Pavilion at the Chicago World's Fair. Soon thereafter, the New York Times featured these miniature creations in an article and the rest, as they say, is history.
Fairy gardens are often planted in containers. Planting a Fairy Garden is a wonderful activity to do with a child or grandchild. It brings out the imagination and creativity in everyone. 
Some enthusiasts create fairy gardens to enliven indoor spaces and patios. Larger fairy gardens can be built into natural landscapes like trees. They can be added to pre-existing flower beds, altars, or rock gardens. 
I have gathered together an assortment of furniture and accent pieces to be used to decorate and enhance any container fairy garden. The pieces are all painted metal and with care, will last years.
As always, if you have any questions, please don't hesitate to contact me: cindy@theherbcottage.com
or by phone or text: 361-258-1192
The Products
Arbor with Bench: A gorgeous arbor with a bench that's perfect for a miniature fairy.  Made of metal and coated with black paint. Available in black only.
$6.50
---
Arbor with Doors: A lovely arbor with doors that's made of metal and coated with paint.  Available in cream or green.
$6.50
Gazebo: A perfect structure to cover a patio for your fairies to visit under. Plant a little vine to climb up it or string some twinkle lights on this to provide a magical setting. Available in Cream or Green.
$8.00
---
Swing Set with Leaf Seat: Fairies can get in the swing of things with this dainty swing set.  Made of metal, the base is coated with green paint and the leaf-shaped seat is silver.  Available in Green Only.
$5.00
---
Conversation Bench: A quaint bench that your fairies will enjoy sitting on in the garden while telling wild stories. Available in Cream or Green.
$5.00
Wheelbarrow: A stylish wheelbarrow for fairies to transport pebbles and flowers.  Made of metal and coated with black paint. Available in black only.
$5.00
---
Iron Fence: The wire fence mimics wrought iron and is a fantastic addition to the inside of your Fairy Garden. Available in Cream or Green.
$5.00
---
Trellis: This pretty trellis with it's intricate leaves is wonderful for growing a small vine and other climbing flowers.  Available in Cream or Green.
$5.00
---
Fairy Dust: "The Sparkle" gives your finished garden a glittery sheen. Make a wish whenever you sprinkle this on your plants. It's a great attractor for fairies too. Sold in a set of five different colors.
$5.00
---
Fairy Carpet Mulch: This fairy carpet provides the same benefits of mulching, it will help with moisture retention for your plants and add a finished touch to your garden. Ships in a plastic container.
$3.00
---
Miniature Boulders: Colorful boulders to place around Fairy Flower beds and build retaining walls with. They even help line a small pond that you can fill with "The Splash". Approximately 16 oz.
$3.00
---
River Rock: These georgous black stones are a must for any formal or Zen Fairy Garden. Shiny and smooth. Approximately 16 oz.
$3.00
---
SaveSaveSaveSaveSaveSave
SaveSave
SaveSave
SaveSave
SaveSave
SaveSave
SaveSave
SaveSaveSaveSave
SaveSave
SaveSave
SaveSave